https://aus.is/wp-content/uploads/2018/12/IVD2018.png
758
1301
Julia Kádár
https://aus.is/wp-content/uploads/2015/10/aus-logo-120-transbak.png
Julia Kádár
2018-12-05 14:27:47
2020-05-22 16:10:25
International Volunteer Day 2018

Culture is Better When We're all included!
AUS highly values ​​equality and human rights and joins the International Day Against Homophobia, Transphobia & Biphobia held on 17th of May around the world. It is hard to say it better than Ellen DeGeneres's did in her empowering message, "Here are the values ​​I stand for: honesty, equality, Kindness, compassion, treating people the Way You Want to be treated and helping Those in need. to me, Those are traditional values. "
Keep learning
Education and open Discussions together with volunteering are efficient Ways to support and spread the ideas of solidarity Within youth and world community. In this context the training courses are one of the most efficient tools.
AUS is delighted to have a chance to take part in the 5-day training "YOUTHWORKS Can Unite: Merging Parallel Realities in Europe", Which took place in Graz, Austria from February 22-26, 2017 Brought together 25 youth workers from 13 countries (Austria, Denmark, Finland, France, Germany, Iceland, Italy, Netherlands, Poland, Russia, Slovakia, Switzerland, UK). Provided it anti-racism training and underserved to developping an action plan to support refugees and NGOs working with refuges, as well as Identifying partners, networking and Possibilities at the EU level. UNITED for Intercultural Action, European Network against nationalism, racism, fascism and in support of migrants and refugees', a partner in the project and Provided valuable information on the situation of refugees and the rise of hate speech across Europe.
Putting into practice
AUS has an OPPORTUNITY to directly implementable gained knowledge into practice – our volunteers are Involved into the social support program for asylum seekers and refugees in Iceland in collaboration with American Red Cross .
https://aus.is/wp-content/uploads/2017/05/inclusion_Easy-Resize.com_.jpg
854
1280
ausadmin2015
https://aus.is/wp-content/uploads/2015/10/aus-logo-120-transbak.png
ausadmin2015
2017-05-23 15:42:45
2020-05-22 16:08:59
Culture is better when we're all included!
Volunteering is Becoming popular all around the world. Everywhere Their exists of Thousand Different organizations-which need volunteers to reach Their goals. As a volunteer You Can Choose What You Want to do.
But what does volunteering mean? "Volunteering is time willingly given for the common good and without financial gain." Or with deferentially words: Volunteers Offering Their Time to work for others without getting paid.
But why has volunteering got so famous? What is the Motivation of the volunteers?
A lot of countries support volunteer work with advertisement and money. This Makes volunteering more famous and a lot of people start Trying it. Everyone has his / her own Motivation to be a volunteer. The most Important reason for a lot of people is to do something for other people and not for yourself. It is a win-win situation. You feel better during and after doing it and other people can help.
"Help" is a strong word and maybe not the right word in all kind of volunteer work. Of course volunteers Their support organizations with Their work and money but "help" is much Stronger. Volunteers are not in a position in a higher, than the people-which work with themselves together. "Working together" for me is a much better description. For me volunteering means working with other people together to reach a goal. It is fun to do things in a community without getting paid, Because the Motivation of all are much Higher if They do not get money. Everyone WHO works there is Willing to be in this organization or project.
I came for one year as a volunteer to Iceland, Because I want to meet new people, learn something about myself and others, live alone and be independent and do something good for others and the nature. For me it was really Important to go to another county for one year of volunteering. I will always have the chance to be a volunteer at home.
I am in Iceland for half an year and it was the best for me decision-making. Volunteering give me a lot of things back, friends, experiences, connections, fun, good memories, a good feeling, skills and more. It Depends on you how much you are Taking out of your volunteering time.
But is volunteering Charity or Solidarity? I think nobody Can answer this question to 100% Because there are so many Kinds of volunteering. I can only make a decision-making for the experiences-which I made. The last half an year I was working as a work camp leader for Worldwide Friends. Work-camps are perfect place to learn a lot of things about other countries and traditions. Everyone is working together for 10 or 14 days. You get new friends and learn so many interesting things. For volunteering in a work camp the answer is Solidarity . Maybe I would use another word: Community . Everyone is working together to reach a goal.
In my next half a year I will be a volunteer in a Kindergarten. I will be part of a team where everybody is working together for children. Also for this project I would say That is volunteering Solidarity. It is Taking and giving. First I have to learn how it works before I can support the kindergarten.
In Germany I was working for an organization for homeless people. I think I can count this as Charity. Everyone went there to cook for homeless people and go on a tour to give the food to themselves. But I never felt in an Higher position than the homeless people.
Charity or Solidarity. Both words are big and it is not Possible to Decide for one. Volunteering is versatile and everyone has to Decide on their own.
Volunteering is a great OPPORTUNITY for everyone, it does not matter-which Motivation the person have to do it. You are part of a community and learn a lot about yourself and others.
Stefanie Vierath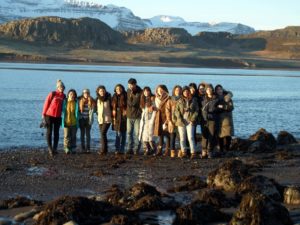 https://aus.is/wp-content/uploads/2017/03/FB_IMG_1481272919174.jpg
596
960
ausadmin2015
https://aus.is/wp-content/uploads/2015/10/aus-logo-120-transbak.png
ausadmin2015
2017-03-15 17:07:11
2020-05-22 16:08:21
Volunteering - popular, versatile and successful